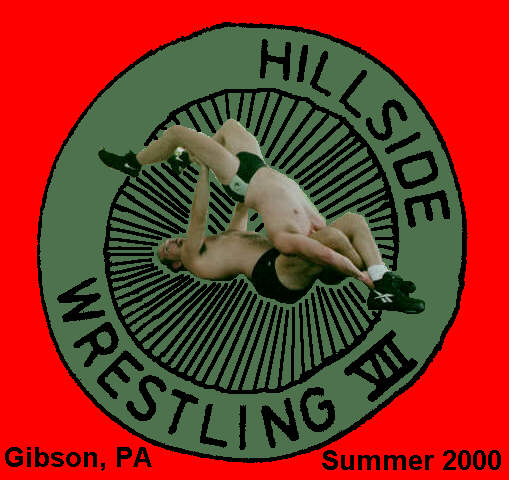 Hillside Wrestling Weekend VII, July 2000
Click here to go directly to Hillside 1996, 1997, 1998 or 1999 pages, or to the registration and general information page.
Click on one of the following links to jump to a particular section of this year's page:
Riding There and Back: Queens and Long Island | New Jersey and Pennsylvania | At Hillside: Wrestling and other photos from Hillside Campground.
This year's route was from Suffolk County, NY, through Queens and Manhattan and the rest of the usual route through New Jersey and Pennsylvania. One-way mileage: 200.6 (322.8 km), round trip 404.8 (651.4 km).
Queens, Long Island, and New York City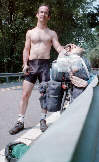 New Jersey and Pennsylvania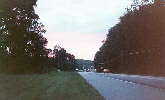 Once I got into Pennsylvania, I just wanted to get to Hillside quickly and start wrestling so I didn't stop and take any more pictures until arriving at Hillside at 7:10pm on Wednesday July 19, and finding about 46 wrestlers already there.
At Hillside
In 1998, only 6 wrestlers had arrived by Wednesday evening. In 1999, there were 30 guys there by dinnertime on Wednesday. In 2000, there were 46, and at least 50 had arrived by Wednesday night. By Friday there were over 155 wrestlers there, from the U.S., Canada and Germany.
Here's Joe at his tent; he's got more Hillside pictures on Joe's Hillside Wrestling Weekend V (1998) page and his Hillside 2000 photo album. On Thursday, many more wrestlers arrived and it was like the weekend already, with plenty of guys to wrestle, even when most were lining up to eat (more space on the mat). The site wasn't filled to capacity though, not yet anyway.
This year, there was an additional mat area, for four in all: the main freestyle/collegiate tent, the pro tent (same location as last year), the submission tent (on site 60A like in 1998), and the oil tent all the way in back. So there was much more space to wrestle, and potential mat time. Before that tent got all oiled up, 8 of us sub-130-lb. lightweights commandeered that tent for a roundrobin submission tournament that lasted from just after lunch until dinnertime, about 5 hours. We wrestled up a storm, so to speak -- and kept wrestling through the torrential thunderstorm, occasionally landing on the wet edges of the mat but avoiding the mud outside the tent:
---
Friday's Lightweight Roundrobin Submission Tournament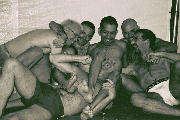 Nick and Dave on the submission mat (thanks to mattbirns for this picture)
Here's some photos of Dave and Ron's match: Ron's on top, he puts a leg scissors on Dave, and here he's still scissoring but Dave's on top and breaking out of it.
---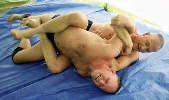 Steve and Jim having a submission match. Steve tries to make Jim submit with a leg scissors. But he didn't submit, so Steve cranked on the leg scissors harder. Looks like Steve's saying "Submit!" too.... :-) Well, if a leg scissors doesn't work, you can always add an arm bar for good measure. Thanks to Steve for these three pictures.
Here they are after their match and before the next match started.
---
Variations on the Wanna Wrestle theme: the white shirt is by Matt Groening. The black shirt to the right is this year's Hillside shirt, which says "Hillside Wrestling Weekend VII on the front, with a picture by the wrestling illustrator Matt, and on the back it says "Wanna Wrestle".
Jim & Fred by the fire; that's the main mat in the background, but who needs a mat when you've got gravel? ;-) Meanwhile, Rafael and Rick prefer the grass.
Dave and I drilling and at breakfast.
---
There were clinics at both the freestyle and the pro tents from Saturday morning through the afternoon.
Freestyle tent
On Saturday morning, as in previous years, we had a freestyle clinic. Our guest coach drilled various moves with us with a lot of skill and humor. He'd show a move, we'd practice it awhile with help from other wrestlers, and more pointers from the coach. Meanwhile, some wrestlers took the opportunity to grab a drink of water in mid-lesson. Thanks to John for these clinic pictures.
More clinic pictures: Dave about to do a duck-under on me; gathering around the coach; drilling the moves;that's me in the red shirt and blue singlet. Drilling with big Dave; actively and passively. The clinic started after breakfast and lasted till lunchtime, though a few of us wrestled longer on our own.
---
Pro tent

Scenes from the clinic in the pro tent: demonstrating how to give the illusion of landing on the bottom guy's neck, while actually the knee is bent and the top guy lands on his butt rather than his leg, thus protecting the bottom guy's neck. Various other holds were also covered.
The weather this year was much cooler than the record heat of 1999. Mornings were chilly until the sun broke through the clouds after breakfast and days were generally warm. By lunchtime it was hot in the sun, though not hot enough to make the mats uncomfortably hot. Another lunchtime scene (hi Brian ;).
But around sundown, the temperature would plummet, as if it was much higher up in the mountains, and nighttime temperatures were in the 40's-50's. Saturday night was the coldest, with a low around 40° F. During the matches that night, we were steaming away like a smokestack. The bonfire was very popular that night as well, good for toasting marshmallows as well as a wrestler or two, if they get too close. ;-)
The weekend was over much too soon; the mats and tents were packed up and the wrestlers went home.
Along with the wrestling weekend, a talent show and antique car show was scheduled. The talent show consisted of mostly lip synch acts, and the audience voted the "Von Crapps" (think Sound of Music) the best. Some of the wrestlers also did acts; Goethe and acrobatics, what a mix! I didn't see any antique cars, but maybe that was because I was busy wrestling, or because they got stuck in traffic in Dover, NJ (there was a big parade of old cars through Dover when I was passing through on the way home; it ended at a fast-food place a few miles to the east).
Back at home:

click on the picture :-)
---
Previous

pages: Hillside 1996 | 1997: Digest & Pictures | 1998 | 1999
---
General Information about Hillside Wrestling Weekend and Registration | Home Page / Other Pictures
---

Click here to send me comments on this web page.
This page has been visited
times since May 3, 2001.

nickz@eskimo.com

Page created:   August 5, 2000
Last modified:  August 8, 2001